What is tissue expansion?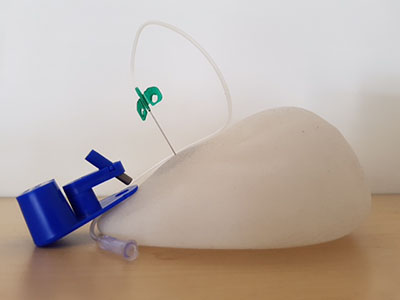 Tissue expansion is a relatively straightforward procedure that enables the body to "grow" extra skin for use in reconstructing almost any part of the body. A silicone balloon expander is inserted under the skin near the area to be repaired and then gradually filled with salt water over time, causing the skin to stretch and grow.
It is most commonly used for breast reconstruction following breast removal - but it's also used to repair skin damaged by birth defects, accidents or surgery, and in certain cosmetic procedures.
If your doctor is recommending tissue expansion, this will give you a basic understanding of the procedure-when it can help, how it's performed, and what results you can expect. It can't answer all of your questions, since a lot depends on your individual circumstances. Please be sure to ask your surgeon if there is anything you don't understand about the procedure.
---
What you should know before tissue expansion surgery
Almost anyone in need of additional skin can benefit from tissue expansion-from infants to elderly men and women.
The procedure is used widely in breast reconstruction when there is not enough skin to accommodate a permanent implant to restore a woman's natural appearance. It is also an option for repairing or replacing areas of the scalp, where hair growth makes it difficult to replace lost tissue with skin from other areas of the body. Tissue expansion generally produces excellent results when reconstructing some areas of the face and neck, the hands, arms, and legs.
Expansion may be more difficult on the back, torso, or other areas where skin is thick. If the affected area is severely damaged or scarred, expansion is probably not an option, since healthy skin is the first requirement.
Be prepared to discuss:
· Why you want the procedure, your expectations and desired outcome
· Medical conditions, drug allergies and medical treatments
· Use of current medications, vitamins, herbal supplements, alcohol, tobacco and drugs
· Previous surgeries
Your surgeon may also:
· Evaluate your general health status and any pre-existing health conditions or risk factors
· Examine your skin in detail
· Discuss your options and recommend a course of treatment
· Discuss likely outcomes of tissue expansion surgery and any risks or potential complications
---
Important facts about the safety and risks of tissue expansion surgery
Skin expansion produces remarkable results, however, like any other operational procedure, there are a few risks and complications associated with this specific procedure.
Although rare, the risks include:
· Leakage or breakage of the silicone expander (relatively easy to fix)
· Infections around the treated area
Be sure to ask questions:
It's very important to ask your plastic surgeon questions about your procedure. It's natural to feel some anxiety, whether it's excitement for your anticipated new look or a bit of preoperative stress. Don't be shy about discussing these feelings with your plastic surgeon. Your age, skin condition, medical history and other factors will help your surgeon determine if you'll benefit from tissue expansion. Your flexibility and tolerance for the inconvenience associated with this procedure will help you determine if you want to pursue it.